I. Introduction
Corporate Internet banking is a channel via which ICBC, based on the Internet or private network, provides such services as account inquiry, transfer and settlement and online payment to corporate clients. Due to different functions, mediums and target clients, there are various versions including General, Standard and Small and Medium-sized Enterprise Edition.
Corporate Internet banking services can be divided into basic services and special services. The former include account management, online remittance and online payment; the latter include VIP room, online agency of payment and settlement, online collection, online letter of credit, online bank draft and high-level account management.
II. Target Client
Corporate clients who have opened accounts at ICBC and enjoy good credit standing, including enterprises, administrative institutions and social organizations.
III. Features
Drawing strength from advanced technology and service innovation, ICBC has always been committed to creating more value for our clients. With its advantages in technological development and management, ICBC has developed a financial management platform for corporate clients which integrates ten types of services including account information management, payment and collection, central fund distribution and investment management.
1. Stable and efficient system, highly developed network of clearing houses.
2. Powerful and various-typed products, sustainable capability of innovation.
3. 3A (Anytime, Anywhere, Anyhow) services, high-quality management. ICBC provides 7 × 24-hour non-stop service. No matter where you are, you need only log on the Internet to enjoy fast and high-quality banking services.
4. Multi-level combined authorization mechanism is a convenient service for many persons to authorize in sequence or out of sequence.
IV. Required documents
(1)Internet banking application form
Fill in the Corporate Internet/Mobile Banking Application&Modification Form. You should fill in the relevant contents and ensure the authenticity of the contents. Please tick item 7. in the form to add user ID (operator and authorizer) . In particular, please note that the mailing address and email address of the company should be filled in accurately; otherwise the application may be delayed. Print out the hard copy and sign by authorized person.
(2)IC scanned copy and original CTC
For all new online banking users, provide the IC scanned copy, including NRIC and PRC ID Card, otherwise the passport and residential address proof. All the photocopies must be certified as true copy by any party from the list below: registered lawyer, Certified Public Accountant or Singapore company secretary who is on ACRA.
Note: Users who have already provided IC/ID information when account opening may not need to submit it again unless the IC/ID has expired.
V. Sign up steps
(1)Fill in Corporate Internet/Mobile Banking Application&Modification Form.
(2)Contact your account manager and mail the required application form and CTC files.
(3)Within two weeks after receiving the application form, ICBC will give you a reply by phone, email or letter.
(4)We will send you the e-token device and the email of activation code.
(5)After e-token activation, you could login to ICBC internet banking, www.icbc.com.sg. (See ICBC Corporate Banking Manual)
★ Click to download ICBC Corporate Internet/Mobile Banking Application&Modification Form
★ Click to download ICBC Corporate Banking Manual
VI. Procedures
Please see the flow chart for the enabling procedures: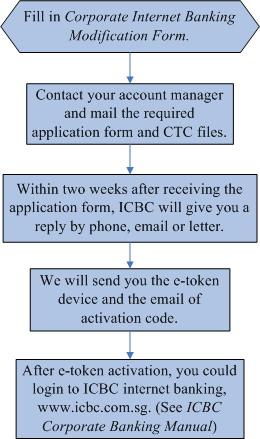 Ⅶ. Other specifications
(1)We suggest you to apply mobile banking which is free of charge at the same time. And it provides financial services such as account management, instruction authorization, E-receipt, smart reminder, etc. Please fill "apply for mobile banking" in Item 9. of the application form.
(2)We provide multi-level combined authorization mechanism for approver to authorize with/without sequence. And also the free authorization with customized transaction limit.
(3)For viewing and submit fixed deposit request online, please fill in your fixed deposit account number in Item 6. of the application form.
(4) For details, please contact your account manager.