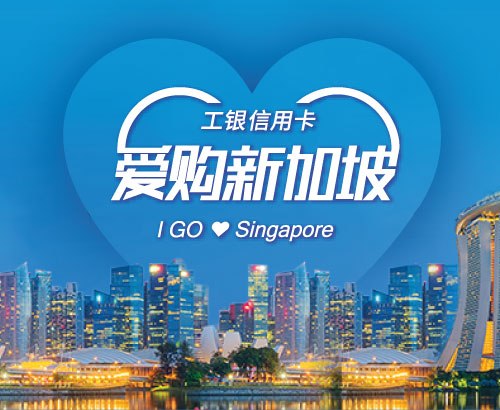 Start your adventure with "I GO Singapore" and embark on a Singapore experience with your ICBC Card.
I Go Singapore entitles ICBC Cardholders to a stellar collection of privileges and discounts and the opportunity to explore Singapore in style.
All of I GO Singapore participating merchants have been assigned into six categories, allowing you to pick and choose as you make your own arrangements for your trip. Brief descriptions of these six categories are as follows:
Hotels: A selection of the best mid to high-end hotels; quality accommodation at a discount.
Dining: Local favourites and must-try speciality dishes
Shopping: Exclusive shopping promotions at iconic shopping malls.
Beauty & Wellness: Premium health products and foods.
Leisure: Travel around and explore Singapore in style.
Others: Delectable local food products, souvenirs and many more.
Please click the icons below for more details:
If you have any comments or feedback, please click here
Don't have an ICBC Credit Card? Apply now if you are a Singapore Citizen, Permanent Resident or currently hold an Employment Pass / Visit Pass / Student Pass (valid for at least 6 months) and aged 21 years and above, with a minimum annual income of S$30,000 or S$48,000.
Apply Online

Apply for Supplementary
Credit Card

Other Application
Channels
Terms and Conditions
1."ICBC" means Industrial and Commercial Bank of China Limited.
2.All promotions are subject to ICBC's Terms and Conditions and each individual Merchant's Terms and Conditions. The terms of each promotion offered under I GO Singapore will vary depending on the Merchants. Please refer to the relevant Merchant's Terms and Conditions for more details.
3.Payment must be made using an ICBC Credit card or Debit Card.
4.ICBC is not an agent of any Merchant and will not accept any liability in relation thereto.
5. ICBC shall not be responsible for the quality, merchantability or fitness for purpose of the products and services provided by the Merchant. Any dispute in relation thereof shall be resolved directly with the relevant Merchant. ICBC shall not be held liable for any loss, injury, damage or harm suffered in connection with or arising from the products and services provided by the Merchant.
6.ICBC reserves the right to terminate I GO Singapore and any of its merchant collaborations at any time without prior notice to Cardholders. ICBC accepts no liability for such termination.
7. Access to and use of hyperlinks to third party websites from a link available on our website is at your risk. ICBC is not responsible for the content, accuracy and security of these websites.
8.These terms and conditions are prepared in English and Chinese, in the event of inconsistencies, the English version shall prevail.