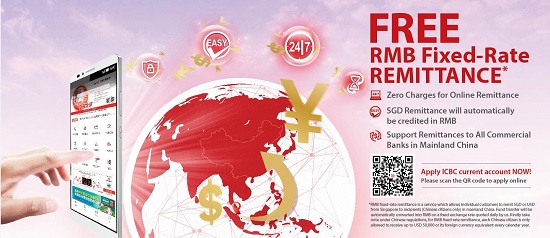 RMB fix-rate remittance means payers remit SGD or USD from ICBC Singapore to payees (must be Chinese citizens) in mainland China. The fund will be automatically converted into RMB on a fixed-rate quoted daily by our bank, and credited to payee's account.
Online RMB fix-rate remittance (via ICBC internet banking or App) is free of charge.
We offer attractive exchange rate, safe and fast crediting to beneficiary (payee) account. This remittance service supports all main commercial banks in China as beneficiary (payee) bank. The beneficiary could receive the fund as fast as up to the same date of transaction. It usually takes 2-3 working days to reach beneficiary (payee) account.
Under the prevailing Chinese regulations, each Chinese citizen is only allowed to receive up to USD 50,000 or equivalent of RMB fixed-rate remittance every calendar year. Please ensure beneficiary (payee) limit is not used up, in order to avoid any charges incurred.
Please scan the QR code below to apply for our ICBC multi-currency current account online.